DISCOVER YOUR FULL POTENTIAL WITH MIXED MARTIAL ARTS CLASSES!
If you came across a fitness program that promised to give you a Hollywood-star body while boosting your fitness level without having to lift backbreaking weights or training like a marathoner, would you jump at the opportunity? Now what if that same program offered you bodyguard-grade self-defense skills that would shock the most ruthless attacker?
The adult mixed martial arts classes at Systems Training Center-Encino will give you all of the above, plus so much more. It doesn't matter if you've never taken a martial arts class before or if you've already earned a multitude of belts. When you learn at the hands of our professional black belt masters, you'll enjoy a workout that will melt fat and build impressive muscle tone in just a few short classes. And as we help you sculpt your beautiful new body, we'll be showing you a full arsenal of lethal self-defense moves that will keep you safe in any situation.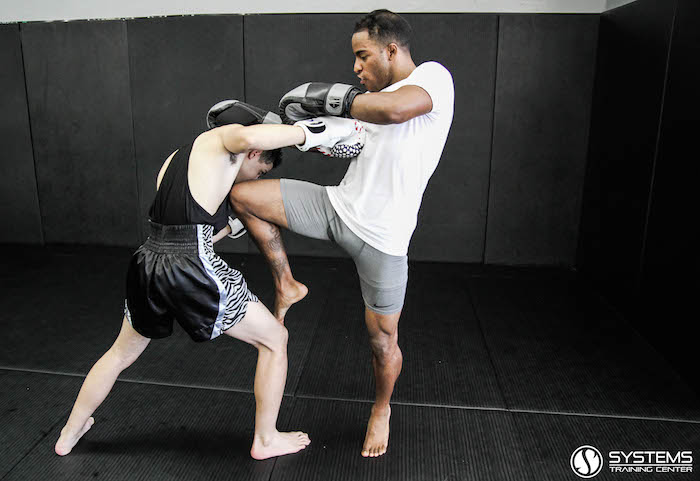 GUARANTEED RESULTS WITH DOZENS OF EXTRA BENEFITS
We're committed to helping you achieve your fitness goals as we teach you the martial arts techniques that have stood the test of time. We guarantee you'll be impressed by the results you achieve with each and every class. On top of it all, you'll enjoy dozens of extra benefit for your body and mind. Here are just a few:
You'll easily shed unwanted fat and flab, revealing healthy muscle tone
You'll enjoy a cardiovascular boost that gives you unstoppable energy
Your ability to focus and concentrate will skyrocket
Your self-confidence will reach new heights as you learn amazing self-defense techniques
Our mixed martial arts classes at Systems Training Center-Encino take the very best techniques Jiu Jitsu, Muay Thai, Karate among other popular self-defense methods and combine them to offer you a martial arts program that's more effective and more rewarding than any other fitness program you can find anywhere else!
A SPECIAL INVITATION TO DISCOVER MARTIAL ARTS
At Systems Training Center-Encino, we go out of our way to introduce people to the martial arts—and it shows. In fact, our classes have become so popular that we're adding brand-new classes starting this month.
Why not see what our mixed martial arts classes can do for you? We've put together an exceptional offer for you—but you must take advantage of it this month. To learn more, just complete the brief form on this page. When you do, we'll give you all the information you need to start enjoying the countless benefits of the mixed martial arts classes at Systems Training Center-Encino!