MMA and Kickboxing this weekend!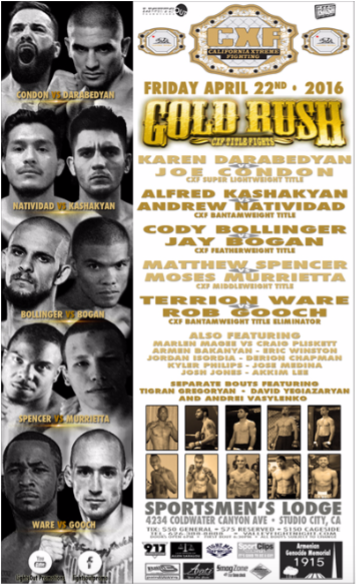 Encino, San Fernando Valley
This weekend hosts not just one but two fighting events. First off, professional MMA on Friday night, we have 4 of our fighters representing at the CXF event "Gold Rush" at the Sportsmen's Lodge in Studio City!
Akkim Lee 5'9 ft. 155lbs, originally from NYC, New York is making his pro debut! Akkim got into martial arts when he was a teenager to protect himself from others. Being a big Bruce Lee fan his drive and his been doing judo, kickboxing, BJJ and wrestling for some time and is now taking the step into the pros.

Coach Dmitry "Dima" Gerasimov, who teaches kickboxing and CrossFit is the GM for Systems Training Center in Hawthorne, South Bay. Dima is stepping into the cage against Armen Bakanyan for the 2nd time. They faced each other in Dima's MMA pro debut, where Dima won a decision. Now, in his 10th pro fight, Dima took the fight on 2 weeks' notice. This time, Dima is not looking to let it go to a decision.
D.C. Chapman, who trains out of Systems Training Center in Encino, San Fernando Valley, is also back at it again, facing Jordan Isordia, who's previously fought Dima as well.
Terrion "Flash" Ware holds a 13-5 record with 6 KOs and 3 Submissions. Terrion is a personal training, coach and - according to himself - an all around bad ass. Terrion is facing Rob Gooch of Gooch Training Academy. This fight has been in the making for a while and was originally supposed to be a title fight.
Get your tickets now, by clicking here!
After that, we have Sarah Purdum, making her kickboxing debut. Sarah teaches fitness classes in both Encino, as well as at our Systems Training Center in Westwood!