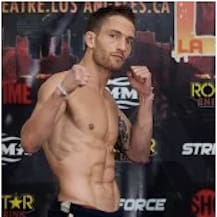 Marcus Kowal
B.A. Industrial Relations with Human Resource Management
Masters in Sports Management
Owner and Lead Instructor at Systems Training Center
CEO and Co-Founder FitnessCenter.com
Host and MMA Specialist at StudioMMA and MMANytt
Certified Personal Trainer
Certified Krav Maga Instructor
Certified CrossFit Instructor
Black Belt in Krav Maga
Black Belt in Kickboxing
Purple Belt in Brazilian Jiu-Jitsu
Professional MMA Fighter
Professional Kickboxer
Amateur Boxer
2x Golden Gloves Finalist and Title Boxing World Championships Finalist
Former Special Forces (Ranger) with the Swedish Military
Licensed as a civilian to train Law Enforcements in the U.S.
Born in Gothenburg, Sweden, Marcus Kowal started with Martial Arts at the age of 15. At that time, he was living in Birmingham, England and after experimenting with Aikdio, Karate and Tae Kwon Do, he realized he wanted something more competitive and started with Kickboxing. After his first fight at age 18, he decided to improve his hands and started to include boxing into his training. Instantly falling in love with the sport, he continued training and competing in both sports simultaneously. Marcus joined the Swedish Special Forces (Rangers) in 1997. Due to a serious injury that took him 2 months of therapy only to relearn how to walk again, he had to leave the military and moved to Paris to continue his training.
After spending 8 months in Paris, Marcus moved back to England to finish his University education. He started the University of Kent Kickboxing Club, which soon became the University's largest sports club. After a 3rd place in the Swedish Nationals and winning the British University Nationals (equivalent of NCAA) in 2000, Marcus was awarded "Sportsman of the Year" at the University of Kent, Canterbury, England.
After graduating with a B.A. in Industrial Relations with Human Resource Management, Marcus moved to Mexico to continue his fighting career. Turning pro in Kickboxing in 2001 at the age of 24, Marcus won a World Title after a tough 5-round fight.
In 2002, Marcus re-located to Los Angeles to pursue a Master's Degree in Sports Management (thesis focus on kickboxing) at Cal State Long Beach. He also worked at Krav Maga Worldwide Headquarters in Los Angeles and went through the gruesome Krav Maga instructor courses and was awarded his Black Belt in 2007. In January of 2006, he was promoted to General Manager for the Krav Maga Worldwide Headquarters in West Los Angeles.
Continuing his fighting career, he focused on boxing and was the 2-time Golden Gloves runner-up as well as the Title Boxing World Championships runner-up in 2006. In 2009, Marcus made his pro-debut in Mixed Martial Arts by winning a 2nd round stoppage for the TFA (Total Fighting Alliance). Following in 2010 was Marcus' 1st fight on the Strikeforce Organization.
Marcus has been featured on the Tyra Banks Show, Dr. 90210, Celebrity Fit Club, the National Body Challenge on the National Geographic Channel, I form med (In Shape With) Anna Anka which aired in Sweden. Marcus trains actors for fight scenes, in self-defense and fitness, as well as fighting himself in both movies and television shows.
Marcus has trained such celebrities as; Rachel McAdams, Sacha Baron Cohen, Erika Elaniak, Brendan Fraser, Hilary Swank and Anna Anka.
Currently Marcus serves as the Lead MMA Training Instructor and Owner of Systems Training Center as well as the CEO and Co-Founder of Fitnesscenter.com. In addition, he is the Host and MMA specialist for StudioMMA and MMANytt.